Why the Boston Red Sox Should Trade Mookie Betts This Offseason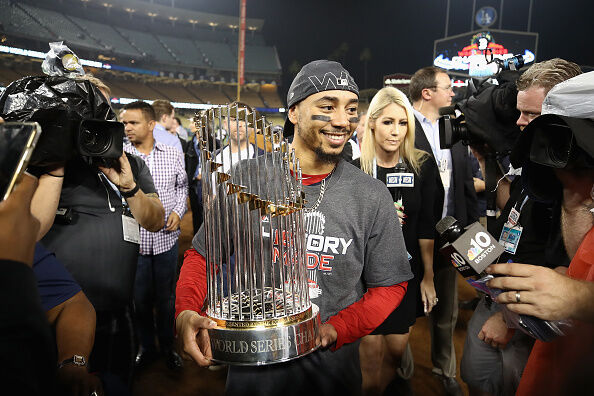 Jon Morosi:

"The Red Sox are going to have to give some pretty serious thought to doing the near unthinkable, which is trading Mookie Betts. Their current pitching plan is not working. Nathan Eovaldi has barely been able to start and Chris Sale next year starts year one of a five- year, $145 million extension… YEAR ONE and we're already worried about his health at 30 years old. And oh by the way, JD Martinez can opt out after the season is over. The way things are going they're going to have to really entertain the thought of trading Mookie this winter if they want to have any hope of having a somewhat self-sustaining pitching staff in the next several years."
Listen to MLB insider Jon Morosi join The Jason Smith Show to explain to Jason Smith and Mike Harmon why the Boston Red Sox should look into trading superstar outfielder Mookie Betts in light of team ace Chris Sale being shut down for the season with a dire elbow injury that many feel could be the type of injury that puts the former Cy Young Award winner at a major crossroads in his career.
Betts is the team's most beloved player, and is arguably the game's next best player to Mike Trout, as Betts is the reigning American League MVP and is a career .300 hitter in six seasons in the big leagues.
The 26-year-old Betts will become a free agent after NEXT season (2020) and will surely warrant Bryce Harper-type money in the range of $30 million per year over 10+ years.
Check out the audio below as Morosi details why Boston trading Betts could save a starting rotation that doesn't offer many redeeming qualities past Sale.

The Jason Smith Show with Mike Harmon
Want to know more about The Jason Smith Show? Get their official bio, social pages & articles on FOX Sports Radio!
Read more